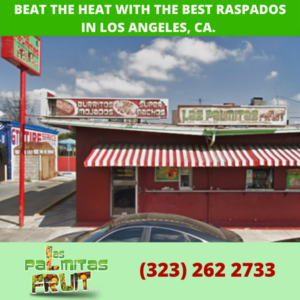 Are you in the mood for a delicious, refreshing treat to beat the heat of Los Angeles? If so, then you'll want to check out the best raspados in Los Angeles, CA.
Raspados are a type of Mexican shaved ice, and they're absolutely perfect for satisfying your sweet tooth on a hot day.
The team at Las Palmitas Fruit their ice by hand and tops it off with your choice of flavorful syrup. Whether you like fruity or spicy raspados, we have the perfect option for you.
So what are you waiting for? Head on over to Las Palmitas Fruit and enjoy one (or two) of their delicious shaved ice treats today!
What fruits do we use to make delicious raspados?
At Las Palmitas Fruit, we only use the freshest fruits and finest ingredients to make our delicious raspados. Our raspados are made fresh to order and are sure to please your taste buds.
We have a variety of fruits and flavors to choose from, so you can find the perfect raspado for you.
Raspados for fruit lovers.
There are many different fruits that can be used to make raspados, but we have the most popular and delicious options.
When choosing a fruit for your raspado, it is important to select one that is ripe and full of flavor.
No matter what fruits you choose to use, raspados are sure to be a delicious and refreshing snack!
Lemon: A tart and juicy lemon raspado is the perfect way to refresh yourself on a hot day.
Cherry: A light, flavorful, and sure to please your taste buds.
Mango: A ripe and juicy fruit makes for a great snack.
Pina colada: A tropical and exotic fruit that is perfect for a summer treat.
Pineapple: A refreshing and hydrating choice for a hot day.
Guava: A light and delicate fruit that makes a delicious raspado.
Tamarind: A sweet and nutritious berry that is perfect in shaved ice.
Raspados for different and exotic tastes.
While traditional raspados fruit flavors are always popular, more adventurous eaters may enjoy exploring some of the more exotic options that are available. Whether you like your raspados sweet or spicy, there's sure to be a flavor that will tantalize your taste buds.
Our menu includes:
Gum: A unique and fragrant flavor that is perfect for summertime.
Chamoy: A spicy and savory seasoning that is perfect for those who like a little bit of heat.
Rompope: A rich, creamy, and Mexican flavor.
Raspados for low-calories snacks.
Raspados are a delicious and refreshing treat that can be enjoyed guilt-free. Made from shaved ice and topped with fruit or sweet syrups, raspados are naturally low in calories.
That's why we make nutritive drinks, including:
Natural coconut: A refreshing, hydrating, and low calorie choice.
Natural walnut: A nutritious and low calorie choice that is perfect for those looking to beat the heat.
Milk strawberry: A sweet, fun, and delicious option.
Stop by Las Palmitas Fruit today and try one of our delicious raspados! We guarantee you'll love our refreshing and cooling shaved ice treats.
How can raspados help you beat the heat during summer months?
In the summertime, one of the best ways to beat the heat is to enjoy a refreshing raspado.
They can be made with a variety of fruits and flavors, and they are typically served with a sweet syrup or condensed milk.
Because they are so light and refreshing, raspados are the perfect treat on a hot summer day for many reasons:
Not only do they help to cool you down, but they also provide a delicious and healthy way to stay hydrated.
They are incredibly refreshing and cooling, thanks to their icy texture and sweet flavor.
Raspados are a great way to hydrate yourself on a hot day.
They are relatively light and easy to digest, which makes them a perfect choice for a summer snack.
The sweetness of the raspado can help to combat dehydration by replenishing lost sugar levels.
So if you're looking for a delicious and refreshing way to cool down this summer, be sure to check out some of the delicious raspados at Las Palmitas Fruit!
Enjoy the cold and the tastiest flavors of our raspados!
At Las Palmitas Fruit, we believe that summer should be enjoyed to the fullest. That's why we only use the freshest, ripest fruits in our raspados. Our raspados are made with real fruit, not artificial flavors or syrups.
Whether you like your raspado sweet or tart, we'll be waiting for you at:
3691 E 3rd St, Los Angeles, CA 90063, United States
3425 E 1st St, Los Angeles, CA 90063, United States
You can also call us at (323) 262 2733 to make an order. So come by Las Palmitas Fruit and enjoy the taste of summer!