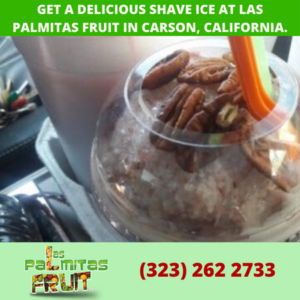 Looking for a delicious and refreshing treat on a hot day? Then be sure to head to Las Palmitas Fruit in Carson, California. There you'll find a wide selection of shaved ice desserts!
Raspados, a popular Mexican shaved ice dessert, are the perfect summer snack. They're cold, refreshing and perfect for quenching your thirst on a hot day.
Las Palmitas Fruit in Carson offers delicious raspados made with fresh fruit and all natural ingredients.
Choose from classic flavors like strawberry and mango, or try something new like tamarind or chamoy. No matter what you choose, you're sure to enjoy a tasty and cooling treat.
So next time you're in the mood for something sweet, make your way to Las Palmitas Fruit and enjoy a delicious shave ice.
Raspados – The perfect summer snack in California.
Shaved ice is a type of shaved ice that is very popular throughout Latin America. They are made by shaving a block of ice into thin slices and then adding flavored syrup or fruit juices.
Raspados are a refreshing summer treat. They can be easily customized to suit any taste and are perfect for beating the heat.
In addition to traditional syrups, raspados can be made with fresh fruits, herbs and even spices.
As a result, they offer a unique and flavorful alternative to traditional ice cream or sorbets.
Plus, raspados are relatively healthy compared to other sweet snacks like ice cream or cake, making them a guilt-free summer snack.
So if you're looking for a cool and refreshing way to beat the heat, be sure to give raspados a try.
How do we make amazing raspados?
Raspados are a popular Latin American treat made with shaved ice and fruit flavors. It is a refreshing treat that can be enjoyed on hot days.
To make a raspado at Las Palmitas Fruit, we only use the freshest ingredients to give our customers the most delicious and refreshing cup of shaved ice possible.
We start with natural fruits that are hand-selected for sweetness and juiciness.
These fruits are then washed and cut into small pieces before being placed on top of our freshly shaved ice.
The result is a cup of shaved ice that is not only incredibly refreshing, but also packed with flavor.
We place toppings according to taste.
Be sure to stop by Las Palmitas Fruit and try one of our best meals on the menu!
What ingredients make our raspados so delicious?
Our shaved ice is made with filtered water, and we only use natural fruits for our flavorings. This means that our raspados are not only delicious, but also healthy.
In addition, we make sure that every bite of our raspados is smooth, flavorful, and simply irresistible.
That's why you will find the perfect flavor for you:
Sweet raspados with tropical flavors:
For a sweet and refreshing treat, try a fruit raspado! From classic pineapple and mango to more exotic options like tamarind and guava, there's something for everyone to enjoy.
And because they're made with shaved ice, they're nice and light – perfect for a hot day.
We offer a fruit flavor for any palate:
Mango: A classic flavor that is both sweet and tart.
Pina colada: A tropical flavor that is perfect for summertime.
Guava: A delicious and refreshing flavor for any occasion.
Tamarind: A unique flavor for those who like to try new things.
Pineapple: A tart and tangy flavor that is ideal for summertime.
Cherry: A refreshing and hydrating flavor that is great for a hot day.
Lemon: A citrus flavor for those who enjoy sourness.
Healthy raspados with natural flavors:
These raspados are made with fruit juices or other types of natural sweeteners. Natural raspados are not only healthier than their sugary counterparts, but they can also be just as delicious.
In addition, natural raspados are usually lower in calories and fat, making them a good choice for people who are watching their weight
You can choose a variety of flavors, including:
Natural coconut: A refreshing, hydrating, and antioxidant snack.
Natural walnut: A delicious and juicy flavor for those who like a crunchy experience without dairy.
Milk strawberry: A sweet low-calorie experience.
Traditional raspados with home flavors:
Our raspados are made with fresh fruit and natural flavors and come in a variety of classic and modern flavor combinations. From sweet to spicy, there's something for everyone.
And for those who like their raspados with traditional Mexican flavors, we have the best options for you.
Choose one of our selection:
Chamoy: A sweet and spicy combination of mango, chili, and tamarind.
Rompope: A rich and creamy flavor made with eggs, milk, rum, and spices.
Gum: A chewy and delicious raspado that is perfect for those who like to take their time with their sweet treat.
We love our raspados here at the shop, and we hope you enjoy them as much as we do! Made with fresh fruit and shaved ice, they're perfect for a hot summer day.
We've got all your favorite flavors, from chamoy to mango to coconut, and we're always trying out new combinations.
Stop by today and try one of our delicious snacks, we know you'll love them!
Come to Las Palmitas Fruit and feel the summer in your mouth.
Las Palmitas Fruit is the perfect place to enjoy a delicious raspado on a hot summer day. Our raspados are made with fresh, ripe fruit and finely shaved ice, and they come in a variety of mouth-watering flavors.
Whether you prefer the tartness of mango or the sweetness of strawberry, we have a raspado that will make your taste buds dance.
And our friendly staff is always happy to help you choose the perfect flavor for your mood. We're located in several cities in California, including Los Angeles, Carson, Downey, and Bell.
So come on down to 2645 E Carson St, Carson, CA 90810, United States and enjoy the summer in your mouth!
However, if you prefer to reserve your order, call us at (310) 513 1270. We'll be waiting for you!