Wednesday, 16 November 2022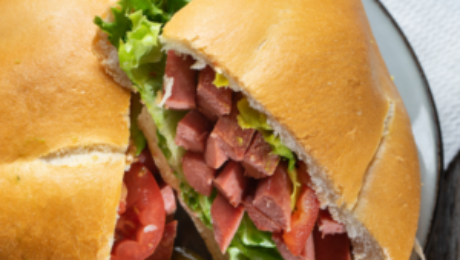 Las Palmitas Fruit
(323) 773-9963
If you're looking for delicious tortas cubanas near Bell, look no further than Las Palmitas Fruit!
The torta cubana is a sandwich that comes packed with different meats, cheeses, vegetables, and sauces. Each ingredient is carefully selected to create a perfect balance of flavors.
The result is a sandwich that is hearty, flavorful, and absolutely delicious.
Our tortas are made with fresh, quality ingredients and come in a variety of flavors to choose from.
Whether you're in the mood for a hearty sandwich or a light snack, we have something for you.
So come on by and enjoy the best tortas cubanas in town!
What is a torta cubana?
The torta cubana is a type of sandwich originally from Mexico. It is made with white or wheat bread and filled with a variety of meats, cheeses, and vegetables.
In some regions, the term torta cubana is used to refer to any type of sandwich that includes various fillings.
The most common fillings are ham, roast pork, Swiss cheese, pickles, and mustard. Cuban tortas are usually served on hot, lightly grilled, or toasted bread.
This Mexican sandwich has become popular in other parts of the world, especially in Latin America and the United States.
In addition to being delicious, the torta cubana is also a hearty meal that can help to stave off hunger. For this reason, it is often eaten as a late-night snack or as an afternoon pick-me-up.
While the exact ingredients and preparation may vary from place to place, one thing is certain: the torta cubana is a delicious way to enjoy the flavors of Mexico.
What ingredients make a torta cubana so delicious?
A torta cubana is a Mexican sandwich that is absolutely packed with flavor. Made with fresh ingredients and plenty of love, our tortas are sure to please even the most discerning palate.
While variations of the dish can be found throughout Mexico and Latin America, Las Palmitas Fruit offers a particularly tasty version.
The secret to our success is in the quality of our ingredients!
So you can choose all these fillings and make your torta cubana according to your taste:
Milanesa: thin, pounded and breaded steak. A classic option for your torta cubana.
Ham and cheese: a popular filling that is always a hit.
Loin: another traditional ingredient that adds tons of flavor.
Our bolillo rolls are crispy on the outside and soft on the inside, and we use only the freshest meats and vegetables.
In addition, we don't skimp on the portions, meaning that you'll always leave feeling satisfied.
We also offer a variety of sauces and vegetables, including:
Tomatoes: for a fresh and juicy flavor.
Lettuce: to add some crunch.
Onions: for a bit of sweetness.
Jalapeños: for a spicy kick.
Ketchup: for a classic flavor.
Mayonnaise: for a creamy texture.
So come by and try one of our tortas today – we promise you won't be disappointed!
Why should you try a tasty torta cubana at Las Palmitas Fruit?
There are many delicious dishes that come from Mexico, but the torta cubana is definitely one of the most popular.
That's why there are many reasons why should you try it at our restaurant:
The bread is always fresh and soft:
Our bolillo rolls are baked fresh daily and are sure to please. We only use the finest ingredients to ensure that our rolls are of the highest quality.
The fillings are generous and flavorful:
We only use the freshest meats, cheeses, and vegetables in our fillings. We wanted to create a torta that was not only tasty but also filling, so you can enjoy your meal without feeling cheated.
Our generous portions are proof of our commitment to quality, and we know that you'll taste the difference.
At our restaurant, everything is made to order, so you can be sure that your food will be fresh and hot when it arrives.
In addition, our kitchen staff is quick and efficient, so you won't have to wait long for your food.
All of these factors come together to create a sandwich that is simply irresistible. So what are you waiting for? Come and enjoy a delicious torta cubana today!
Come and try the best Mexican food at Las Palmitas Fruit in Bell!
Do you want to feel the true Mexican flavor? Visit us! Our authentic dishes are prepared with fresh ingredients and plenty of care.
From huaraches to menudos, we have something for everyone to enjoy. And don't forget our delicious tortas cubanas!
Whether you're in the mood for a casual lunch or a festive dinner, we'll make sure you leave satisfied.
You're welcome in all of our locations, including Los Angeles, Downey, Bell, and Carson.
Call us (323) 773-9963 or visit us at 4214 E Florence Ave, Bell, CA 90201.